This post may contain affiliate links. If you purchase something through the link, I may receive a small commission at no extra charge to you.
I'm so excited to be joining 22 other super talented bloggers for the Fall Cricut Challenge today. Wait until you see what it's all about and the amazing giveaway Cricut is offering (below my post)! Even though I got a late start on fall decorating this year, it's now underway in full force. I always have a bit of a challenge integrating the warm tones of fall into my decor because we are all about some gray up in here. Gray, gray everywhere. I love gray because it can work with so many colors, but you know what colors that I don't like with gray? Copper, brown… basically all of the quintessential colors of fall. That puts me in quite a pickle with my love of gray and my love of all things fall. Well I found a work around this year to make room for my favorite fall color, copper, by way of my buffalo check no-sew pillow and my Cricut. Yayyyy!!!!
My friends at Cricut sent me a box of goodies last month (did you see me geeking out on snap or stories? 😉 ) and included in it was a package of amazing pebbled faux leather in gorgeous metallic colors (pssst: it's in the giveaway at the bottom). When I saw the copper I knew I had to make it a part of my fall decor in some way. Enter a buffalo check blanket scarf that I haven't worn so I decided to make it into a no-sew pillow cover. The buffalo check was the perfect backdrop and transition for my copper faux leather leaf and that's how my fall no-sew pillow was born. Here's how you can make one:

Fall DIY No-Sew Pillow with Buffalo Check
Supplies
Cricut Explore Air™
Standard Grip Mat
Pebbled Faux Leather – copper
Maple Leaf Cut File
Spray adhesive
18″ pillow (either plain or patterned)
Flannel blanket scarf or equivalent size fabric if you want to make a cover
Directions
1. Open up the maple leaf cut file (here) in Design Space (you can change the dimensions depending on the size of your pillow).
2. When ready to cut, turn the dial on your machine to Custom and select Faux Leather, Cricut from the drop-down menu.
Ok can we just take a moment here? I mean, look at this stuff. The texture, the color, the metallic sheen… swoon.
And there she is… my favorite symbol of fall, the maple leaf.
Gently peel the faux leather leaf off of the mat; lay it upside down and generously apply spray adhesive to the back. Make sure you get the pointy edges well as they will tend to want to lift up.
4. Place the leaf where you would like it to be positioned on the pillow and press down. I placed a few heavy books on top for a few hours to make sure it was securely attached.
If you need a pillow for this project and you have no idea how to sew (like me), here's how you can make a DIY no-sew pillow:
1. Lay a pillow in the center of the scarf/fabric and fold over from the top and bottom, making sure that the seam is in the middle of the pillow.
2. Fold in the sides (they should cover the seam), kind of like you're wrapping a present.
3. Depending on how long the sides are, you can tie them in the middle into a pretty knot or bow, or if you want to keep it really classy like me (a.k.a. the sides weren't long enough haha) you can hold the ends together with a zip tie or twist tie.
4. You can feel free to leave it at that because this side of the pillow will be facing the couch, but if you'd like it to be more finished, you can tuck the excess fabric back under the twist tie and pull some of it out so it's like a little poof.
Ta-da! And that is how copper came to live in my fall decor in peaceful harmony with all the gray. My fall no-sew pillow tied in the copper rope basket I made perfectly too. Wheee!!!
Check out what the talented ladies in the Cricut Fall Challenge created below and enter to win a HUGE box of supplies from Cricut!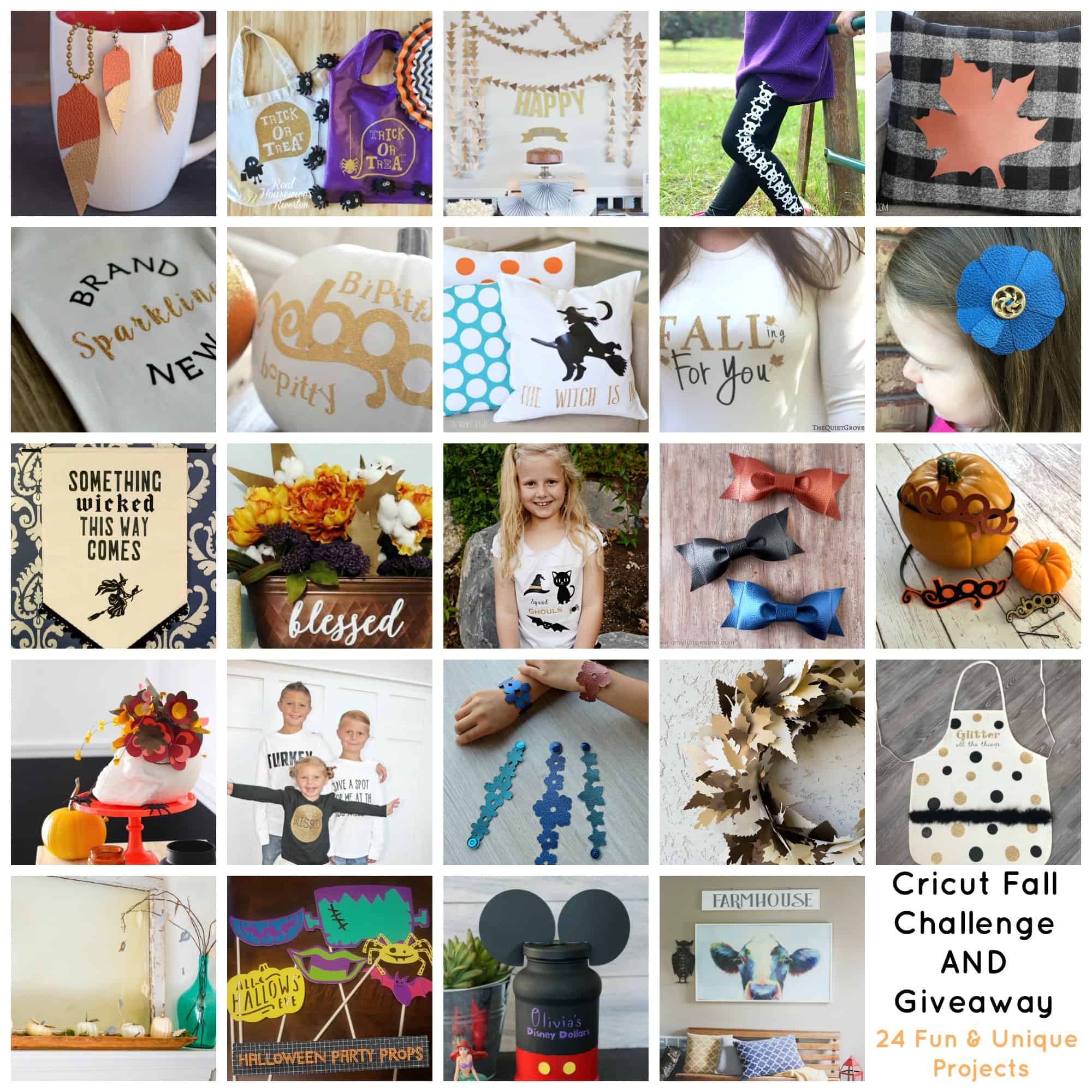 DIY Faux Leather Jewelry from It Happens In A Blink
DIY Trick or Treat Bags from Housewives of Riverton
Easy Triangle Garland from Our Thirfty Ideas
Halloween Skull Leggings from 7Alive
Fall No Sew Buffalo Check Pillow from Lydi Out Loud
Brand Sparkling New Onesie from Tastefully Frugal
Cinderella Pumpkins from Auntie Tay
DIY Halloween Pillow from The Happy Scraps
Falling For You Shirt from The Quiet Grove
Faux Leather Flower Clips from 5 Little Monsters
Something Wicked This Way Comes Banner from Albion Gould
Blessed Flower Arrangement from Crafting In The Rain
Squad Ghouls Halloween T-Shirt from Housewife Eclectic
DIY Leather Bows from Artsy-Fartsy Mama
BOO Halloween Headbands from RaeGun Ramblings
DIY Flower Skull From Cloudy Day Gray
Kids Thanksgiving Graphic T-Shirts from Over The Big Moon
Faux Leather Floral Cuffs from Hello Creative Family
Fall Paper Leaf Wreath from Frenchie Wraps
Glitter Apron from Midge and Madge
DIY Fall Mantel from Major Hoff Takes A Wife
Halloween Party Props from Nite Owl Creates
Disney Savings Jar from Inspiration Made Simple
DIY Farmhouse Sign from A Southern Mother
Want to make one (or all) of these projects? We've teamed up with Cricut to help with that! Enter through the widget below to win a HUGE box full of supplies including: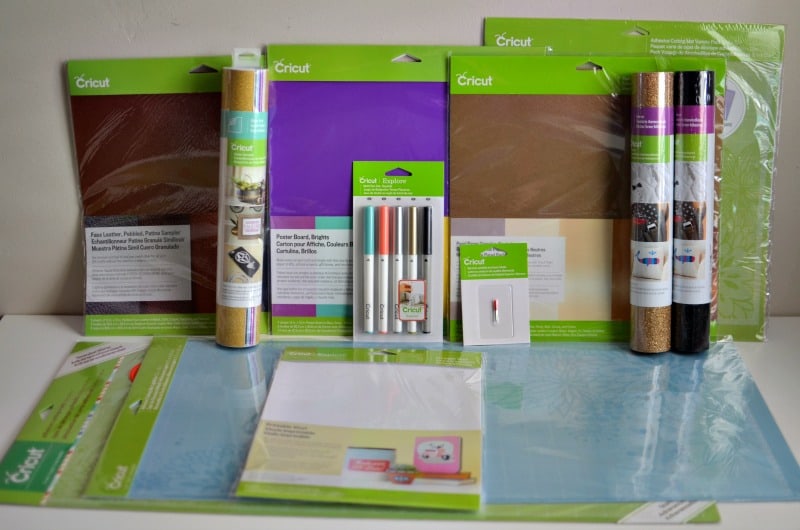 Variety 3 Pack of Cutting Mats
Patina Pebbled Faux Leather Sampler
Giveaway is open to residents of US and Canada ages 18+. Giveaway ends on 10/21/2016 at Midnight MST. Winner will be notified within 24 hours and has 24 hours to respond.
Affiliate links provided.